With all this rainy weather in San Francisco lately, is March too early to start training for a beach summer bod? Or, maybe you just want to have a healthy alternative to the typical diet of consuming whatever your palate desires. Everyday Health warns us of the health risks of the Western Diet, which usually consists of highly processed foods, saturated fats, and refined sugars. These would include "ultra-processed foods" like chips, frozen pizza, sodas, and candy. Because of the increased susceptibility to heart diseases and deteriorating immune systems American diets cause, many have turned to healthier diets like the Paleo Diet for weight loss and health improvements.
The amount of people hooked on these diets is rapidly growing in number, creating a following so big that it's becoming a trend. There are even meal kit delivery services jumping on the Paleo train, catering to people with specific diets like Green Chef and Sun Basket.
To put it simply, the Paleo Diet is just a whole food diet plan that returns to how cave dwellers used to eat in the Paleolithic era. This means low-to-none processed food and staying away from sugar and grains.
Which foods are allowed on this diet?
YES: Proteins like meat and fish, fats and oils, vegetables, eggs, fruits, nuts.
NO: Processed food (that's right, cheeseburgers aren't permitted), soft drinks, sugar, sweeteners, vegetable oils, grains.
After looking at the list of permissible foods of this diet, you can definitely cook meals at home using ingredients above. But, you won't want to eat in all the time. It's hard to find restaurants that fit your dietary needs, especially if processed foods are what you're avoiding.
Here are ten restaurants/eateries in San Francisco that fit the Paleo diet and are popular for doing so!
When the restaurant has a company value of "enhancing people's lives through better eating," you already know they're going to deliver. Roam likes to welcome diners on any sort of diet plan, with customizable options like lettuce wraps, grass-fed meats, and fresh, seasonal produce that is sourced from local farms. With two locations in San Francisco and one in Oakland, this chain of famous veggie burgers are accessible and appropriate for Paleo meals whenever.
2. Amawele's South African Kitchen
Amawele's is a great choice that serves South African cuisine in SoMa and actually has the word "Paleo" on the menu. They offer chicken (Peri-Peri or Lemon and Herb) on a bed of vegetables and have other affordable gluten-free and vegetarian options with generous portions. Have a taste of something pleasantly new and not a salad for less than $11.
Rooster and Rice, another Paleo-conscious place, serves a non-extensive menu, but for a reason. They don't need much else! Their simple dish (that they can do four ways) "Khao Mun Gai" is Thai chicken and rice, but they offer "The Paleo" which replaces the rice with seasonal veggies. Offering five locations in the Bay, three of which are in San Francisco, locals love this quick pick-up with their free side of chicken broth.
4. Souvla
This line of Greek restaurants are well-known for their spit-fired, rotisserie-roasted meats, usually accompanied by pita bread but easily forgone with a salad. Although a quick and easy meal, you'll be satisfied with how much flavor is packed into their pork shoulder, free-range chicken, and lamb leg.
5. Little Gem
What's super cool about this place on Grove St. is their naturally raised and additive/preservative-free produce. They have counter-service ordering for lunch and provide table service for dinner, as well as the option of ordering online. Their colorful dishes are hard to resist: Paleo-friendly veggie bowls, salmon and chicken plates, and aesthetic salads, each of them very different from the other.
6. Serpentine
Located in Dogpatch, you can count on the most recent owner and executive chef Tommy Halvorson to keep it classy with their always dependable mains like ribeye and honey glazed chicken. Their green sides such as brussel sprouts and braised greens won't make you regret going Paleo. But because dinner isn't enough, they also have brunch available on weekdays and weekends.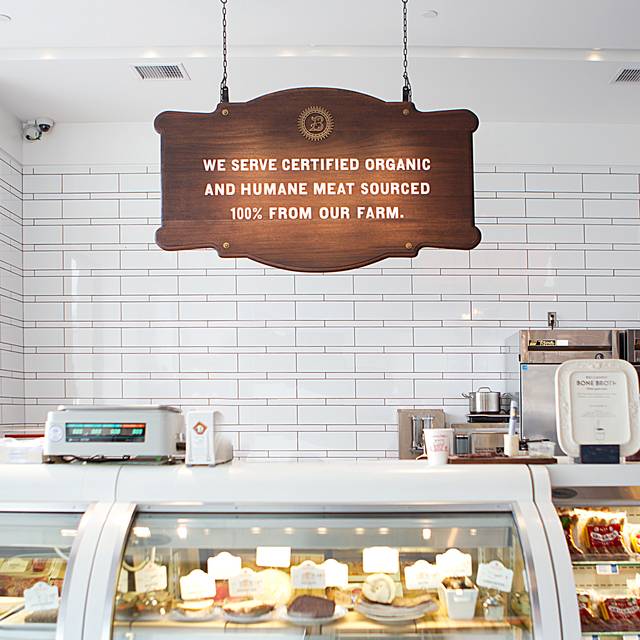 7. Belcampo
Belcampo changed the meat game with their transparency and promise to "serve the highest quality meat anywhere —compassionately and sustainably raised." They claim that their pasture-raised meat is better for you than others, being high in cancer-fighting acids. Not to mention, they're generously Paleo-accommodating with lettuce-wrapped burgers and vegetable sides.
Tucked into California St., Tataki was the first sustainable sushi bar in the United States. They serve fresh fish and local ingredients, as well as their mission to present Japanese cuisine in a way that is environmentally respectful. Try their cold salads and carefully cut sashimi, for a light but delicate experience.
9. Paramo Coffee Roasters
If you're wanting more than just coffee, Paramo is famous for their paleo muffins and other goodies from Starter Bakery and Wholesome Bakery. Everyone knows you've got to have Paleo snacks on hand.
10. eatsa
Besides being more than just a new, innovative food experience, eatsa is actually a great Paleo option. Their menu explores easy and nutrition-packed veggie bowls for breakfast, lunch, or dinner. They also make it easy for transportable meals and reduced labor.